Via Scoop.it – Location Is Everywhere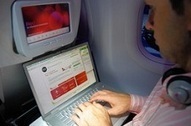 I wanted to try it on a New Zealand flight, but it wasn't working. Just as well because the cost was ridiculous.
Whether you travel for business or pleasure, your time spent in the air used to be forced down-time with little to no connectivity.