See on Scoop.it – Location Is Everywhere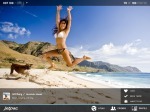 Have you tried Jetpac, I'd be interested in what you think. When we were preparing for our road trip we watched some videos on Katrina and music in the south, but we decided we wanted to see most of it for ourselves and not go to places feeling like we had already been there because of the quality of images and video we had seen. We were more interested in having the experience for ourselves. On the other hand a social application where you make friends with people on the road and tell them about spots where you can see awesome sunsets, have great food, awesome entertainment, that's another story and we were very keen to share the photos we took afterwards.
I'm interested to see how this evolves.
Jetpac, a gorgeous social travel application for iPad, has just scored $2.4 million in Series A funding from Khosla Ventures, Morado Venture Partners, Yahoo co-founder Jerry Yang and [redacted], a top Facebook exec.
See on techcrunch.com